sonorous (adjective)
Tunings:



Epic Love - Db, Ab, B, E
Circle of Melodies - D, Gb, B, E
I, Resolute - C, A, C, G
Accelerate - A, D, G, C
She Danced - Bb, Eb, C, F
Tribal Chant - Db, Gb, Db, E
Hope - D, G, A, G
Looking Glass - C, E, B, G
Meditation in E - E, E, A, Db
Sencilla - C, F, Bb, Eb
1. Having or producing sound   
2. Having or producing a full, deep or rich sound.
3. Impressive in style of speech
What I've tried to do with these compositions is create melodic music that has a full and complete sound.  I wanted to write music that has true feeling and emotion – music that I am really passionate about and that touches people.  The motivation for making an album came from several places, my father for one.  He kept on asking me when I was going to release a proper CD – it sticks out in my mind so much.  After a hard-fought battle with cancer, my father passed away at the end of 2008.  I wanted to make this album for him.  I also have received wonderful support over the Internet, which I'm very grateful for.  I uploaded my first video onto YouTube in February 2008, using my pseudonym, 'Zander Zon' (which I began using to post music on the Internet and has since become my musical stage name for this solo bass project).  The kind comments that people have made on these YouTube videos encouraged me greatly.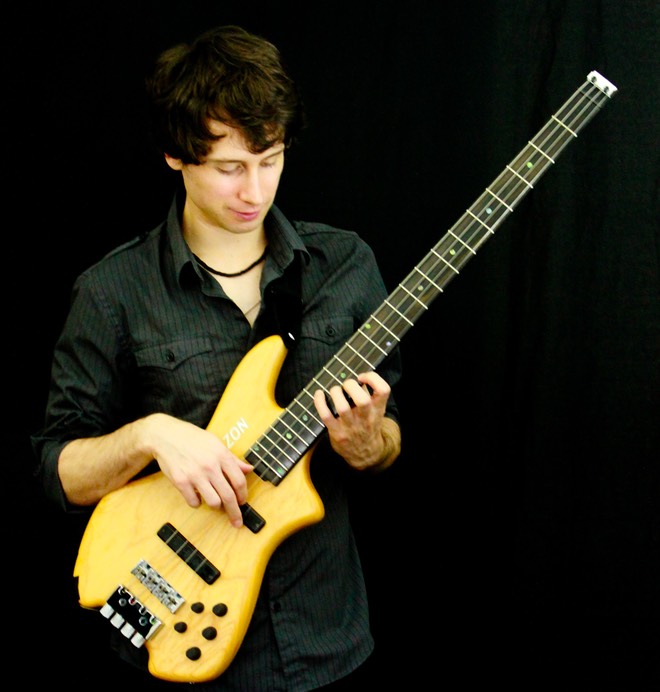 I think there's something incredibly pure about solo music.  It allows for total expression of one's instrument and it can be a window to the musician's innermost self.  I remember the first time I heard solo pieces from Michael Manring, Victor Wooten and Jaco.  Like so many other bassists, hearing music like this for the first time was almost a sort of revelation!  The electric bass was capable of doing what classical instruments could do: create beautiful music in the solo context!  Also, having only really been around since the 1950s, the electric bass is a very young instrument – especially when compared to an instrument like the violin, which is hundreds of years old.  There is so much potential for the bass and I feel excited to be playing it during this early time in its development.  The bass that I use on Sonorous is a 4-string VB from the incomparable Zon Guitars; I cherish this phenomenal instrument.  The D'Addario strings I use are called piccolo strings – very light gauge strings with a huge pitch range.  This means that there is a great capacity for using altered tunings.  By tuning my bass in different ways, I'm able to reach higher pitches, create harmonic chords and more effectively use my open strings. Ultimately, I love the sound of my instrument and I hope you enjoy it as well!   
Reviews / Quotes:
Completely unaccompanied, Zander Zon showcases his mastery of the piccolo bass and a range of altered tunings on this superb recording. 'Sonorous' is a rare treat in the world of solo bass guitar performance: a solo bass album that can be enjoyed by everyone, not just bass players!  (Stuart Clayton, columnist for Bass Guitar Magazine and owner of Bassline Publishing)
Zander Zon's music has an aching beauty at times. He uses altered tunings (a different one on each track), guitar-like finger-picking techniques and a predominance of harmonics to create an individual style. Classical influences like Bach and Pachelbel are clearly apparent in his writing and playing, but he has a sound and style of his own.  (Phil Wain, columnist for No Treble) 
Cinematic melodies and expressive landscapes…  (Cliff Engel, creator of the International Institute of Bassists)