Click on the 'Latest News' tab to stay up-to-date!
* * *
"London-based solo bassist and instrumentalist

Zander Zon

puts his insane skills on display with

this cover of Adele's 'Someone Like You'. Is it sad that I listened to this with headphones, alone in my room at night and got all teary-eyed? I don't think so. It's moving. I'm still tough. You try it and see what happens -- I dare you." CBS News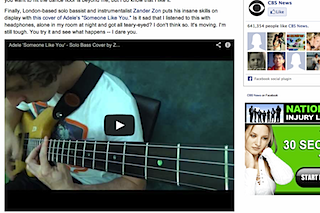 My latest album: 'Saturn Return'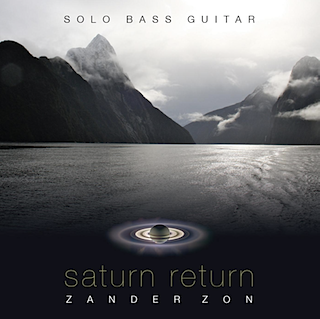 Check out my 'Track by Track' discussion of the album!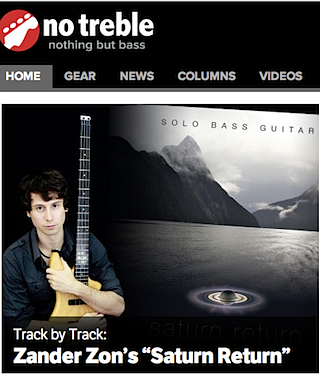 Reviews of 'Saturn Return'
"Zander is a remarkable solo bassist, incorporating piccolo strings, alternate tunings and effects with unique compositions and arrangements. And while his technical ability is undeniable, his musicianship comes through loud and clear." - Corey Brown, No Treble
"Zander Zon as a one man show can evoke moods just as well as he may shine with his chops. However, these are indeed only tools - as they should be for any serious musician striving for timeless material. 'Saturn Return' is not only recommended for bass players, but a real treat to friends of melancholic, acoustically tinged music in general." - Andreas Schiffmann, Musikreviews.de
"This incredible new recording contains nine new compositions from Zander, all highlighting his mastery of the solo bass guitar genre." - Stuart Clayton, Bassline Publishing
"Very sensitive music, as expected. This guy is a real genius on sopran bass." - Gregor Fris, BassTheWorld
"Stunning! Sounds beautiful..." - Nick Wells, iBassMagazine
"Zander is recognized as one of the most notable contemporary solo bassists who continues to explore new sonorities through altered tunings and expand the repertoire of solo bass music." - Cliff Engel, International Institute of Bassists
"His music shows a great a attention to detail, subtlety and musical phrasing, and his impressive technique always serves the song rather than being a showcase in itself." - Rob Martino, Chapman Stick Artist & Wave Arts engineer
"Saturn Return is full bodied, rich, well rounded bass. Real tunes. It's not just aimless sampling or study. Each piece means something in the bigger picture... (It is) a deeply moving, emotional album. Very satisfying to the heart - highly recommended." - Elmeaux, Thunder Row
Reviews of 'Sonorous'
"Completely unaccompanied, Zander Zon showcases his mastery of the piccolo bass and a range of altered tunings on this superb recording. 'Sonorous' is a rare treat in the world of solo bass guitar performance: a solo bass album that can be enjoyed by everyone, not just bass players!" - Stuart Clayton, columnist for Bass Guitar Magazine and owner of Bassline Publishing
"Zander Zon's music has an aching beauty at times. He uses altered tunings (a different one on each track), guitar-like finger-picking techniques and a predominance of harmonics to create an individual style. Classical influences like Bach and Pachelbel are clearly apparent in his writing and playing, but he has a sound and style of his own." - Phil Wain, columnist for No Treble.
"Cinematic melodies and expressive landscapes..." - Cliff Engel, creator of the International Institute of Bassists.